PRK-6000
Auto Ref-Keratometer 验

光

/角膜曲率

儀
Auto Ref-Keratometer with
High Resolution Touch Screen
验

光

/角膜曲率

儀 備高解像輕觸式液晶屏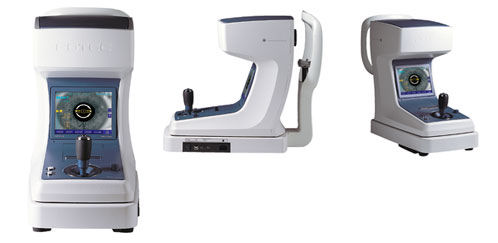 Refraction & Keratometry Measurement
验

光度数

/角膜曲率
The PRK-6000 provides and extensive dioptric measurement range (-25D to +22D), and the radius of curvature for keratometry is 5.0mm to 10.2mm. Easy alignment and friendly operation allows you to measure the refraction and keratometry in sequence, and the results can be validated immediately. Due to its easy alignment and friendly operation you can measure the refraction and keratometry in a sequence and the results can be checked all at once.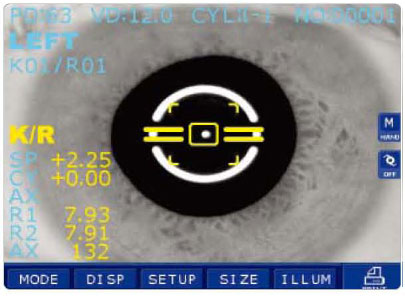 Peripheral Karatometry
檢測角膜曲率
Peripheral corneal curvatures can be measured by having the examinee look at the peripheral eye fixation lamps. Measuring the corneal periphery will help you examine irregular astigmatism, and also determine a better fitting for a contact lens.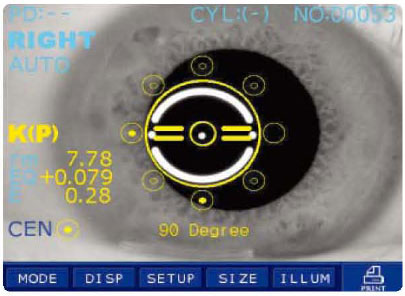 Introduction of various measurement systems of the PRK-6000 enables location of even minor eye disorders.
Intuitive Diameter Measurement 試量角膜及瞳徑
Using the freeze function, measurement of the diameter of the cornea, pupil or hard contact lenses worn by the patient can be per-formed. By simply touching and dragging the screen with your finger measurements are exactly calculated.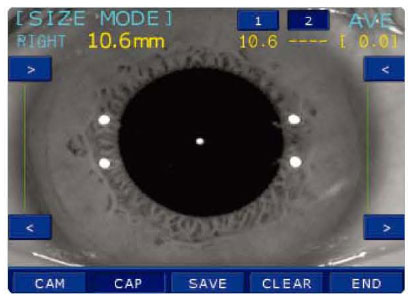 TFT-LCD with Touch Screen 輕觸式液晶屏幕
By adopting high resolution VGA TFT-LCD with Touch Screen function, we virtually removed all input keys except the measurement button on the Joystick and Chinrest control switches. Tests are preformed rapidly and conveniently by simply pressing a button or the icon indicated on the screen.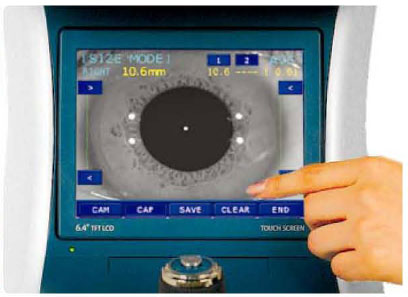 Instant Display Data 清晰顯示詳細紀錄
By simply touching the icon on the screen results of up to 10 measurements stored in memory can be viewed or printed by the built in thermal auto cut-off printer.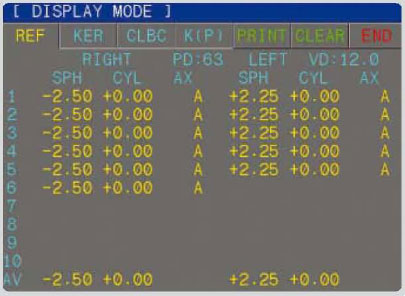 Interactive SETUP Change 個性化設置
Simply touch the icon on the screen and changed setting can be seen. The touch screen supports the interactive settings changes quickly and conveniently saving user time innovatively.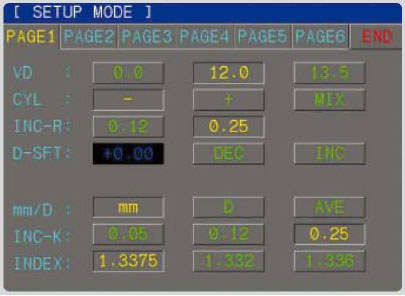 IOL Measurement 白內障下檢測
When refraction results in an error reading due to an intraocular lens or cataract the measurement can be performed with the IOL icon switched 'ON'
Motorized Chinrest 電動升降下頜架

The chinrest is motorized with the use of a switch conveniently positioned for the operator. This makes for simple adjustment of the chinrest from patient to patient.
Printer with Auto Cutter Function 打印後自動切紙
Simply touch the "PRINT" icon on the screen and the PRK-6000 will immediately provide a complete printout of the measurement results. An Auto Cutter is provided for convenience.
Data Transfer 資料傳輸
Data can be transferred to external devices (personal computer, etc.) via an RS-232 interface. A USB interface is also provided for future compatibility.
Specifications
Measurement Modes 檢測模式
| | |
| --- | --- |
| K/R Mode | Continuous Keratometry and Refractometry |
| REF Mode | Refractometry |
| KER Mode | Keratometry |
| CLBC | Contact Lens Base Curve Measurement |
| K (P) | Peripheral Keratometry |
Refractometry 驗光
Vertex Distance (VD)
0.0, 12.0, 13.5, 15.0
Sphere (SPH)
-25.00 ~ +22.00D (when VD=12mm)
(Increments : 0.12 and 0.25D)
Cylinder (CYL)
0.00 ~ +/- 10.00D
(Increments : 0.12 and 0.25D)
Axis (AX)
1 ~ 180° (increments : 1°)
Cylinder Form
-, +, MIX
Pupil Distance (PD)
10 ~ 85 mm
Minimum Pupil Distance
Ø 2.0mm
Keratometry 角膜曲率
Radius of Curvature
5.0 ~ 10.2mm (Increments : 0.01mm)
Corneal Power
33.00 ~ 67.50D
(when cornea equivalent refractive index is 1.3375)
(Increments : 0.05/0.12/0.25D)
Corneal Astigmatism
0.00 ~ -15.00D (Increments : 0.05/0.12/0.25D)
Axis
1 ~ 180° (Increments : 1°)
Others 其他
Corneal Diameter
2.0 ~ 12.0mm (Increments : 0.1mm)
Memory of Data
10 measurements for each eye
Internal Printer
Thermal line printer with Auto-Cutter function
Monitor
16.25 cm(6.4 inch) TFT-LCD
(640 x 480 pixels, Touch-Screen function)
Power Supply
AC100-240V, 50/60Hz (Free Voltage, Free Frequency)
Dimensions
Approx. 300 (W) x 500 (D) x 430 (H) mm
Weight
Approx 20kg




Powerful cross cylinder lens

The dual cross cylinder lens makes fast & convenient examinations.
· Automatic occluding function prevents examinee's eye from accommodation, while the lens is rotating over 45 degree, for precise and comfortable examination.

Vertex distance check and cornea illumination
| | | |
| --- | --- | --- |
| Accurate tests are guaranteed by positioning the examinee's eyes correctly before tests. | | |
Easy and flexible PD control

From any mode, you can adjust the PD easily and conveniently. When the test mode is changing between far and near, the PD is automatically calculated and set.
Support perfect convergence

During the presbyopia and near vision test, PAV-6100 provides perfect convergence function. This function makes the examinee's eyes aligned with the center of lenses for precise measurements.
· Near PD : 45 ~ 75mm
· Near working distance :
35 ~ 70mm
Accurate rotary prism

Precise data can be obtained by measuring up to 20Δ by 0.1Δ step. Automatic occluding function option helps to perform precise and comfortable examinations while the prisms are changing directions.
Adjustable LCD display

Operator always can see the clear screen by adjusting the LCD from 0 to 90 degree.
Quick and convenient function-key

Provides short-cuts over 200 different options and advanced functions according to the test modes and various situations. Combination with SHIFT or ALT, buttons on the control panel provide one-touch operating environment.
· Various & well-organized short-cuts.
Data preset function

Enables to set up the lenses at once in any modes when the user presets examinee's data.
Interactive menu system

Easy operating environment adopting interactive system.
Simple and easy buttons

The buttons play multiple functions according to tests and menu modes. Selection, Changing and execution of menus or tests are more faster in this environment.
Convenient ESC function

The ESC Key provides convenient function to return back to main examination mode canceling a menu mode or a test mode executed before.
Improved Functionality
Help mode & real-time guide

· Real time guide & HELP function guide you to make easy &
fast refraction showing the
· information you need on the LCD display by graphics.
Displaying the result data in tables and graphics

· Well-organized result data in tables and graphics help you
to understand the results at
· first glance.
Operation panel with a built-in high-speed printer

Easy and fast to combine with any kinds of refraction units without installing additional
printer. The powerful 32-bit CPU loaded printer provides quick data printing. You will
also be satisfied with the easy way to replace printing paper.
PAV-6100 supplies the most various examination methods compared with other refractors.

· 18 visual acuity tests
· 26 monocular and binocular (correction) tests
· 35 user-defined tests can be stored and edited
Powerful program function

· Up to 10 user-defined programs can be stored
· In a user-defined program, any of single tests, auxiliary lenses, fogging, chart masking, and other options
can be all stored
· Renaming the user-defined programs is also possible for the user's convenience

Simple automated eyes examination system

· Convenient system installation thru Junction box
· Single cable connection among the instruments
| | | | | |
| --- | --- | --- | --- | --- |
| | | | | |
| | Controller Type A (OP-1A) | | Controller Type B (OP-1B) | |
| | | | | |
| | Controller Type C (OP-1C) | | Controller Type D (OP-1D) | |
Sharp design & intelligent near vision chart

· The near point card rotates freely in all directions, 360 degree horizontally and 180
degree back and forth
· Complete chart combination for near vision test
Perfect networking & data management

· Useful data-link among mirror chart, projector, refractor & lensmeter.
(Supports the connection of chart presentation devices by both serial and IR interface)
· Automatic data transmission & integrated management of customer's data
Economic & efficient system

· Built-in printer in the Operation Panel
· It is not necessary additional connection devices & installation procedure for system extension
(Refractometer's data and lensmeter's data can be shared in multiple PAV systems)
System Networking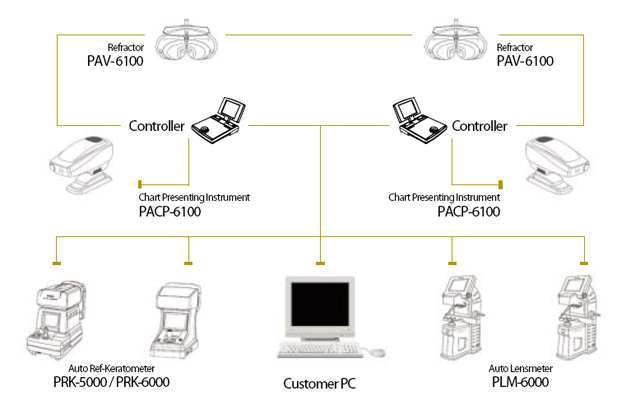 SPECIFICATION
MEASUREMENT RANGE
Spherical Lens
-29.00 ~ +26.75D (Regular)
-19.00 ~ +16.75D (Cross Cylinder or Prism test)
(0.12D/0.25D/0.5D/1.0D/2.0D/3.0D/4.0D increments)
Cylinder Lens
0.00 ~ ±8.75D (0.25D/0.5D/1D/2D/3D increments)
Cylinder Axis
0° ~ 180° (1°/5°/15° increments)
PD
48 ~ 80mm (0.5/1mm increments) Near working distance : 35 ~ 75cm
Rotary Prism
0 ~ 20Δ (0.1Δ/0.2Δ/0.5Δ/1Δ/2Δ increments)
Cross Cylinder
±0.25D
±0.50D
±0.25D Dual Cross Cylinder (Split prism lens)
Retinoscope
+1.5D, +2.0D (Measurement Distance 67cm, 50cm)
AUXILIARY LENS
Occluder
Pin Hole Lens
ø1mm
Madox Rode
Right Eye(Red, Horizontal), Left Eye(Red, Vertical)
Red/Green Filter
Right Eye(Red), Left Eye(Green)
Polarizing Filter
Right Eye:(135°, 45°), Left Eye:(45°, 135°)
Split Prism
Right Eye(6ΔBU)
Left Eye(10ΔBI:up to 5Δcomplement)
PD Check Lens
Thermal line printer with Auto - Cutter function
Fixed Cross Cylinder
(±0.50D, Fixed with the axis set at 90°)
DIMENSION
Refractor
445(W)×255(D)×133(H)mm 6.9kg
Controller
220(W)×259(D)×188(H)mm 1.3kg(Including Built-in Printer)
Junction Box
350(W)×240(D)× 70(H)mm 2.2kg
Power supply
AC 100~120V/AC 220~240V 50/60Hz
Power consumption
110VA

PRK-5000

Auto Ref- Keratometer

Reflection sight/Measurement of cornea curvature

PRK-5000 provides wide reflection sight from -25.00D to +22.00D. And cornea curvature measured from 5.0mm to 10.2mm. You can check your reflection sight and cornea curvature at once with easy and friendly operation and confirm results at once, too.
CLBS (Contact Lens Base Curve)

It can be measured by back side contact lens holder which is modeling of hard contact lens' base
curve (the rear curve), checked lens and distinguished from right-left changed lens.
Measurement of diameter

Used PRK-5000's picture suspension function, it can be measured cornea, the pupil diameter and
hard contact lens which have damaged from users. It can make stopping the eye's reflection,
so the procedures are convenient and precise.
Improved Functionally
Auto PD Measurement

It can measure and indicate pupils' distance automatically by using measurement of reflection eyes.

Auto power saving

If PRK-5000 is not used over 5 minutes, it shut off from electric currents of lighting circuit and TV monitor by built in power saving function. It can extend machinery's life by protecting heat genesis from electronic circuits and save energy.

Colored picture notice table

A wide visual field angled color picture notice table makes easy to fix patients' eye through making patients comfortable. An auto cloud and mist function is helpful to children or damaged eyes because it affects to machinery near vision and patients control.
Direct results indication

It can be seen measurement results saved in memory at monitor (Maximum 10 to an each eye). And also it can print with a built in printer.
Optimized Convenience
Operation layer

We produce compact operation layers with innovative design and advanced technology. And it contains a power sign light and a fixed gripe of stage.
Easy handling joystick

PRK-5000 adopts convenient omni directional joystick. It is executed aim and measurements by one hand. Novices gain precise results every time.
Printer

When you push just "PRINT" button, PRK-5000 provides perfect prints of measurement results immediately. It places PRk-5000's front-right side for users' convenience.
Transmission of data

Measured results can be transmitted to external tools (PC, etc) using RS-232.
---

PACP-6000
Auto Chart Projector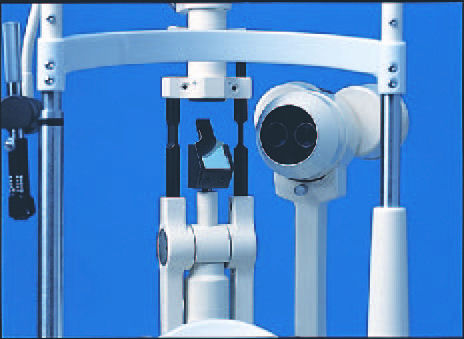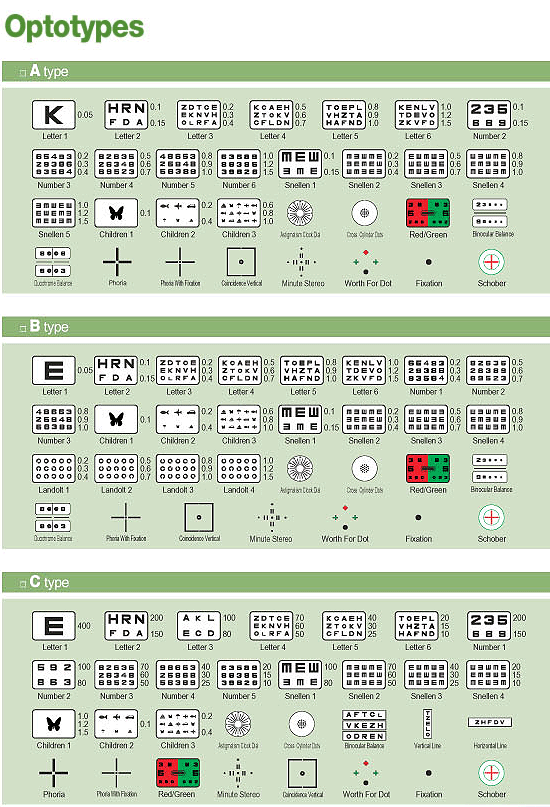 Specification
Chart
31pcs
Chart Selection Speed
Average 0.3 sec
Mask
1 open
5 horizontal lines
5 vertical lines
21 single letters
Filter
Red/Green
Protection Distance
2.0m~7.0m (5m is standard)
Protection Magnification
30x (at 5m)
Protection Size
252mm and 330 W x 225H (at 5m)
Tilt Angle
Ball Joint (▽10◥)
Lamp
6V 20W halogen, 2,000hours lifetime
Power Source
AC220~240V 50/60Hz, AC110V
Power Consumption
50VA
Auto OFF Function
5~10 minutes after
Dimensions (mm)
Main Body:265(H) x 230(W) x 360(D)mm
Remote Controller:20(H) x 64(W) x 195(D)mm
Net Weight
Main Body : 6.0kg / Remote Controller : 180g
Interface
8-pin connector for simultaneous control of chart, mask, and R/G filter by motorized refractor*s control unit
Accessories
1 each of dust cover, polarized mental screen (400mm x 350mm), 1 polarized glasses, 2 spare fuses and 2 batteries, 1 spare lamp
Optional Accessories
Table stand, wall bracket, floor stand, red/green glasses, variable focus lens, screen angle fixing set and reflecting mirror
---





High quality charts
Clear and Fast !The PACP-6100 has high resolution power of line, 50lines/mm, so provides neat and clean graphics and a fast chart changing speed marking it easy for operators to use and comfortable for customers.
Wide range of features
Various and Perfect !The PACP-6100 with 41 charts including Red/Green and Polarizing filters are the new solution for Binocular balance test, Stereo test, Aniseikonia test, Fusion test.
The best networking
Easy and convenient any refraction system including the POTEC Refractor can incorporates PACP-6100 to provide fast and efficient vision tests.
An elegant and compact design
The PACP-6100 can be accommodated in ant area it can be stood up / hung on a wall / placed on a table stand.
Controllable by POTEC refractor controller
POTEC's high networking technology provides the remote control of PACP-6100 by POTEC Refractor controller
A-TYPE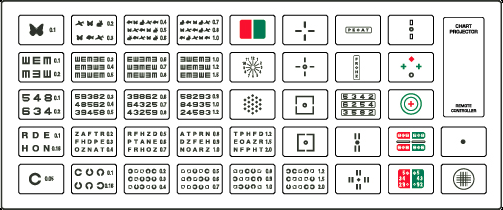 C-TYPE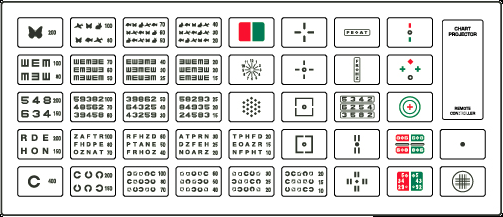 D-TYPE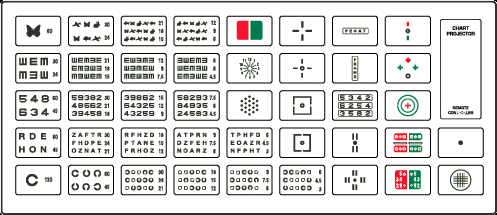 | | |
| --- | --- |
| Chart | 41 chart 34 mask, Red/Green & Polarization Filters |
| Projection Distance | 2.5 ~ 8m |
| Chart Rotation Speed | Average 0.15 sec |
| Projection Magnificiation | 30x at 5m |
| Power Saving | Automatic Switch off (10 min) |
| Program | 2 programs with a maximum of 30 charts each |
| Tilt Angle | ▽ 15﹉ |
| Power Supply | 110V / 220V, 50 / 60Hz |
| Power Consumption | MAX 0.4A |
| Lamp | 12V / 30W (Halogen) |
| Dimension | 367(W) x 219(D) x 273(H)mm |
| Weight | 6.6kg |